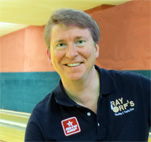 (FR)JOHN BROCKLAND
John has been an outstanding bowler since his junior days. He was a two-time Junior Archway Bowler of the Year. John has won multiple Gran Prix titles, the 2012 State All Events title, and finished 17th at the USBC Masters in 2013 as the third last Amateur to be eliminated from the tournament. Most recently he won the TNBA Southern Rhodman Classic in Memphis. He has 64 300's -- 2 of which are Sport certified -- and 47 800 series to his credit. In 2013-14, he had the High Sport Bowling Average in the Nation for Men with 233. John was inducted into the STL USBC Association Hall of Fame in 2006 and the MO USBC Association Hall of Fame in 2014. He is a Pro Shop Staffer for Storm & Roto Grip and is also a Staffer for VISE inserts and bowling products.
---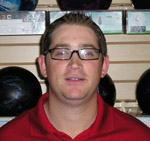 DUSTIN BOICE
Dustin started bowling at age 14 and has had the bowling bug ever since. He has put in a lot of time practicing and learning the dynamics of ball layouts. He is currently one of the better bowlers in the Prestigious Master Traveling League. Dustin has rolled 15 sanctioned 300 games and 11 800 series. He is also on the Advisory Staff with BRUNSWICK BOWLING.
---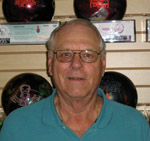 LEN KOCH
Len has bowled his entire life. He has 5 300 games to his credit with a high series of 799. His highest average held is 224. Len has been the Secretary and President of many leagues and currently "runs the show" in the Senior Traveling League. Len is Ray Orf's "handy man", and "Captain of the Head", sharpening all of the drill bits and keeping the shops machinery running smoothly. If you see Len at the lanes, off to buy him a beer. He might give you a bottle of his famous "green degreaser cleaner!
---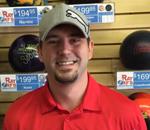 JOE NOLAN
Joe was awarded a position as a Pro Shop staffer as the 2015 Champion of our Ray Orf's 2-Ball Challenge Summer League. Joe has bowled 61 sanctioned 300 games and 33 sanctioned 800 series. His high series of 880 is the all-time sanctioned high three-game series in the history of the STL USBC and its predecessor organizations. Joe was the 2003 Greater St. Louis Bowling Association Male Bowler of the Year. Joe is a 4-time champion in the MO USBC State Open Championships. He is a 2-time Gran Prix Tournament Champion. He was the 2003 Louisville Derby All-Events Champion. He has a 10 year composite league average of 236 and was a 7 time member of the All-Star Team in the STL Masters Traveling League.
---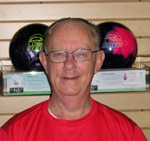 BOB WANKO
Bob truly loves his bowling. He is currently bowling in three leagues, including the challenging Senior Traveling League. He also practices most Saturdays at DuBowl. He has 4 300 games with a high series of 784. Bob's highest lifetime average was 219. If Bob is not bowling, he is normally at the lanes watching scratch tournaments or on his computer watching Extra Frame.
---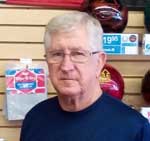 Art Bunch
Art has bowled 23 300 games and 1 800 series in his bowling career.
---
We are proud to have these bowlers on our Pro Shop Staff. We look forward to the reviews and videos of upcoming new releases from the Storm and Roto Grip lines, presented by John.
---
---